Give Them Something to Talk About at Your Next Event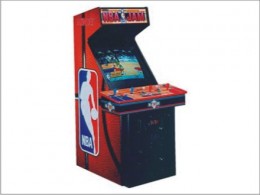 Everybody looks forward to a great party. Who doesn't love to let their hair down with friends from time to time? A memorable party is one in which you show up, grab a cold drink from the cooler or something delicious off the buffet. You look around the room and see that everybody there seems to know everybody else, and before you know it everyone is standing around in little groups, talking and laughing like mad. It's especially fun at company parties, employee mixers, and other, similar events. And, if everybody doesn't know one another already, a well-planned party with games and events can help make all the attendees feel like they have something to share and talk about.
So how do you make sure that your next event gives them something to talk about, both during the party and after? How do you make sure that people mix at your next mixer? How do you get conversations started, make connections, and ensure that everybody has a good time? A good place to start is table games and video games from Party Vision in New England!
Party Vision is your headquarters for great party rentals and entertainment. We've been in the event planning business since 1996, we've got thousands of successful events under our belt, and we can help make sure that your next event is as amazing as you want it to be! Want to get people talking, interacting, and having a good time? There's no better way to do that than to give them games to play. Games give everyone something to talk about, and they're interactive, which means that everyone gets involved.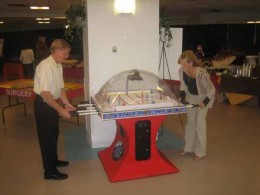 Our table games run the gamut from classic to innovative. We've got pool tables, air hockey, foosball tables, and ping pong tables, as well as our Super Chex Dome Hockey. If you're looking for something a little more luxurious, our casino night options include poker, blackjack, roulette, and more, as well as slot machines and everything else you need to transform your event venue into an upscale casino for the evening. We even supply the play money, chips, and dealer training!
Looking for something a little more high-tech to get your guests gaming? Our video game rental selections give you access to some of the most popular video games around, in classic arcade cabinets or game stations. Play classic games like Ms. Pacman, Galaga, or an assortment of other arcade legends, or sports games like Golden Tee and NBA Jam. Music games are always a party favorite, and we've got Dance Dance Revolution, DJ Hero, Rock Band, and Guitar Hero. Try out our game stations or video game wall, where up to 16 players can play at a time on state-of-the-art LCD video game stations.
No matter what your guests are into, we've got a game that can fit their interests here at Party Vision, along with all our usual interactive attractions, rides, photo booths, arts and crafts, performers, foods, and other party options. So give us a call today, and let us help make your next party one that they'll talk about for months!