Laser Tag Will Make Your Next Party Legendary!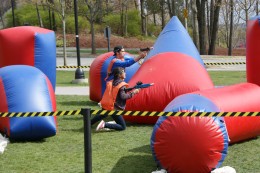 Laser tag has become one of the most popular trends in party entertainment across the nation. Although arena laser tag has been around since the early 80s, the activity (sometimes considered a sport) has gained significant interest in recent years, prompting those in the novelty and amusements industry to create outdoor versions of laser tag that can be set up and played in an outdoor party setting.
Early laser tag concepts were designed to be played strictly indoors at specially-designed laser tag arenas. High-concept laser tag arenas were designed with a science fiction or post-apocalyptic atmosphere. Many of these laser tag arenas included multiple playing levels, platforms, suspended catwalks, and a maze-like topography. The game itself is played with hand-held infrared "laser guns" that emit an infrared beam that can be picked up by wearable targets fitted to the players. The game can be played as a solo match between two players or as a team effort. Players in the game dodge infrared laser beams as they wind their way around obstacles or objects in the playing arena. Team laser tag game play typically revolves around a team goal or objective, such as capturing another team's flag or eliminating players and taking another team's base.
The outdoor version of laser tag is similar to indoor, arena laser tag, in regard to game play. The game can be played by individuals or teams, and game missions or objectives are no different than those in arena laser tag. The greatest benefit to an outdoor laser tag game is the fact that it can be played wherever there is room enough to set up the field of bunkers and obstacles.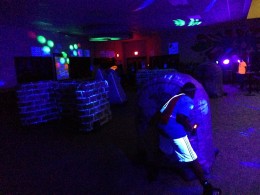 Outdoor laser tag gaming is available from professional novelty and amusement companies such as Party Vision in New England. The outdoor version of the game features a number of exciting and challenging field configurations and themes. Laser domination, which utilizes a laser tag field set-up much like a paintball arena, is popular with college students, corporate team-building events, and fraternity parties. Tactical domination is also set up like a paintball field arena, but features realistic urban battlefield bunkers and obstacles – perfect for college parties and bachelor parties! If you're looking for something truly unique, you might want to give black light laser tag a try. Game play often starts with fluorescent face painting. The whole laser tag course is lit by black light UV tubes (those with a dark purple filter).
If you're looking for an outdoor activity around Halloween, you can't go wrong with a spooky laser domination arena. Creepy props are used in place of standard bunkers and obstacles. Black lights highlight the players, and the whole field is awash in thick fog and spooky music! An alien laser tag set-up, which makes use of a giant inflatable spaceship for interior game play, is also available.
Party Vision in New England provides full-service event rentals to Boston, Providence, Bridgeport, New Haven, Manchester, Newark, Philadelphia, New York, and other cities in New England and the Tri-State area. Contact Party Vision for inflatable rentals, novelties, rides and attractions by calling 800-290-9525 today!