Party Vision Now Rents Zip Lines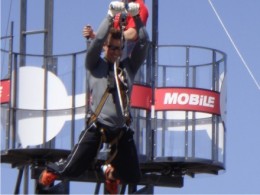 The popularity of zip lines has exploded in recent years. They offer thrills, excitement and the rush of adrenaline for everyday people.
You'll see them at:
Challenge courses
Resorts
Over canyons in the mountains
Through jungles
Water parks
And even on cruise ships!
Renting a mobile zip line can now bring that excitement to your company, college, town or school event. Mobile zip lines come in various lengths, heights and designs. They are a huge draw for events. They can accommodate a large number of people in a short amount of time. Zip lines can accommodate people of many ages and sizes. Most Mobile Zip Lines accommodate weights of 60 lbs. to 250 lbs. It's quite a thrill to step off the platform into empty air and zip to the ground Mission Impossible style!
Mobile zip lines are now approved for rental in most Northeastern states including Maine, Vermont, New Hampshire, Massachusetts, Connecticut, Rhode Island, New York, Pennsylvania, and Maryland. The only exception at this time is New Jersey which is expected to have approval in June of 2013.
Are zip lines safe?
Professionally manufactured mobile zip lines designed and built by companies such as Spectrum Sports, Extreme Engineering or Vertical reality are very safe as long as they are set up and operated by a professional company with a proven safety record. As with any amusement, inflatable or physical attraction, you want to make sure your provider is licensed and insured in your state and has the zip line licensed as well. If the state requires an inspection for every setup, make sure your provider has requested an inspection. Sadly, there are currently companies operating zip lines that are not licensed in the states they are operating. This can result in safety concerns, fines, your event being shut down by the state, and liability for the purchaser in the unlikely event of an injury.
What to look for in a provider:
• Zip line specific licensing for the company as well as the zip line.
• Be sure your provider has a minimum of 2 million in liability insurance.
• Request that your institution be listed as additionally insured on their policy and that they provide a certificate to that fact.
Before renting your zip line:
Check with your provider to find out the set up requirements for the zip line you rent. Keep in mind that the attraction must be towed to its setup location. Make sure there is enough room to maneuver to get there. It's best to consider it in terms of maneuvering a tractor-trailer to the location. The average space required is 200' x 20' with a height of 40' at the tower location. Most of the zip line breaking systems operate hydraulically but power may be necessary to raise and lower the tower. Expect the entire area around the zip line to be fenced off. Some manufactures and states allow for a 20' walk through area directly in front of the tower location.
To learn more about Party Vision's Zip line rental click here. Party Vision services the entire Northeast and is currently the only licensed provider in the state of Massachusetts.