What You Need To Consider When Planning An Outdoor Company Event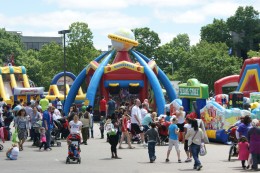 Summer has officially arrived and with it comes the annual company outdoor event. Planned well in advance, an outdoor company event can be a great opportunity for employees, management, and their guests to gather together in an informal setting and interact, socialize, network, and have fun. Corporate outdoor events have been utilized since the dawn of the company picnic as a way for the company to say "thank you" to their employees. Some company outdoor events are also designed to build commonalities between employees, as well as stimulate communication and teamwork between individuals or departments within the organization. And as any corporate event planner will tell you, there is a great deal of preparation and planning that goes into a successful outdoor company event, but it's not a task that has to be challenging or troublesome – especially if you have a few helpful tips in hand.
Planning a successful outdoor company event is just like planning a smaller party or get-together, but on a slightly larger scale. Preparations for an outdoor event should include a set date (or date range, given the unpredictability of weather), an expected number of participants and their guests, a suitable location, ample food and drinks, and entertainment.
If you're planning an outdoor company event, one of the first decisions to make is whether the event will be an employee-only affair or if it will be open to employees and their guests. The difference between these two types of company events can have a dramatic effect on the expected number of attendees. If the event is made open to employees and their guests or families, event planners can expect up to a 250% increase in attendees. Example: if you expect 75 employees to bring family members or guests to your outdoor company event, your attendance could be as high as 188 guests.
Once you have an idea about the size of your expected attendance, you can begin your search for a suitable location. Keep in mind that some public spaces (such as public parks) reserve or rent their event spaces many months in advance of the event date. Also, keep in mind that you may want to have a back-up space selected as a go-to for inclement weather conditions.
After you've selected your event space or location, the real planning fun begins. You can begin to plan and arrange for food, drinks, and entertainment. Obviously, food and drinks are always a matter of company preference. If it's an outdoor company event, such as a picnic, you may want to select food and beverages that are appropriate to the weather. Hot, sunny days may necessitate a lighter, cold fare and plenty of chilled drinks.
As for entertainment, there's no shortage of party events and services to be found with the help of a professional novelty and amusement company. Your outdoor company event can feature mechanical bull rides, rock climbing walls, bungee trampolines, or even a 200-foot zip line. You can event rent a full-size photo booth or an outdoor laser tag arena for your event. And when the event is open to employees and their families, you'll want to make sure that the kids have something fun to do. Consider a moon bounce or an inflatable slide. A few carnival games may be a good choice as well.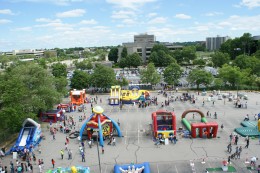 Although your outdoor company event guests will enjoy an opportunity to socialize and network outside the office space (especially where there's free food!), the entertainment and amusements you select for your outing can make the event a smashing success. So, plan early and don't forget the fun!
Party Vision in New England provides full-service event rentals to Boston, Providence, Bridgeport, New Haven, Manchester, Newark, Philadelphia, New York, and other cities in New England and the Tri-State area. Contact Party Vision for inflatable rentals, novelties, rides and attractions by calling 800-290-9525 today!