College Halloween Events and Attractions for a Spooky Thrill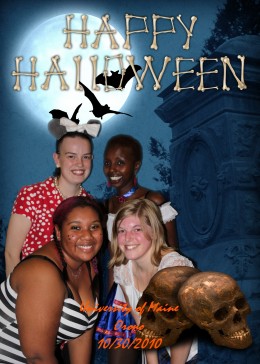 Halloween has come a long way over the years. Far from just tricks and treats for the kids, Halloween has become the second-largest commercial holiday in the country, right on the heels of Christmas. Halloween is also one of the biggest party holidays of the year, especially for college students, over fifty-percent of whom throw or attend a Halloween party every year, and almost forty-percent of whom attend professionally-staged haunted house attractions in the Halloween season.
With so much party competition, it can be difficult for colleges and universities, as well as fraternities and sororities, to stage Halloween bashes that can compete. That's where we here at Party Vision come in. We've got a wide range of spooky and seasonal performers, games, foods, and other products to make your next Halloween event a can't miss!
There's no better centerpiece for your next Halloween event than our special spooky version of our popular Laser Domination Laser Tag. Play laser tag amidst scary props like giant spiders, skulls, and tombstones, complete with black lights, fog, and spooky music! Or, for a more intimate experience, you might want to include our special Last Ride, though it's not for the faint of heart! A solo simulation of a ride to the grave in your very own casket, while your friends watch it all on the special Casket Cam. The Last Ride is an intense and extremely popular experience that engages all the senses, allowing the "victim" to hear the cockney gravediggers loading them into a hot rod hearse, feel the movement of their own burial, and even smell the roses, dirt, and decay. Perfect and memorable spooky fun for an unforgettable Halloween event.
We've got a lot of other great products to round out any Halloween party or festival, whether it's our haunted Black-Light Mini Golf, popular Wax Hands booths, Witch Photos, or fun seasonal foods like cinnamon doughnuts and caramel apples. At Party Vision we know that a party is more than just products, though, and so we also offer a variety of performers, many of whom are perfect for Halloween. Hypnotists, magicians, and fire eaters all make for great entertainment in this spookiest of seasons.
Whether you're planning a college-wide Halloween bash, a mixer for your sorority or fraternity, or any other Halloween event, let Party Vision help make sure that it's one your guests won't soon forget. We've been in the party business for years, and we know how important entertainment is. Our staff and products can help you to wow your guests while taking a lot of the stress and worry of planning and organization off your hands, all on a budget that you can afford. So give us a call, and let us put some spooky fun into your next Halloween event!
Party Vision in New England provides full-service event rentals to Boston, Providence, Bridgeport, New Haven, Manchester, Newark, Philadelphia, New York, and other cities in New England and the Tri-State area. Contact Party Vision for Halloween Fun, including novelties, rides and attractions by calling 800-290-9525 today!